Troublesome of cleaning bathroom
Cleaning the toilet is too dirty and troublesome to do it yourself. But you can't do it clean it, otherwise the bathroom will be filled with bacteria, odor and dirt.

Recommend the Japan brand "Inwejia" bathroom gel magic bottle
The design is quite stylish, and I didn't expect it to be a toilet cleaner. Put it in the toilet tank and it will flush out blue water.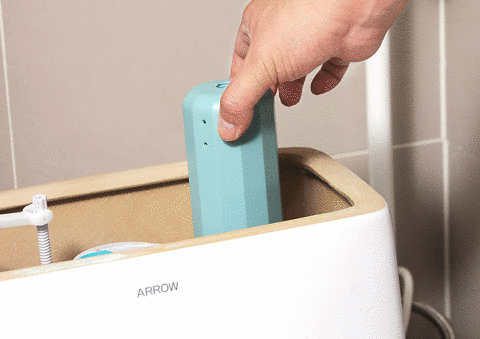 You don't need to do it, let it help you clean your toilet everyday
This method looks familiar, and is very similar to the common toilet cleaning on the market. But this bottle is cleverly designed, which is easier to use and much more convenient than granular.
1 bottle can flush the toilet up to 1588 times, enough for 6 months
Compared with the granular form, a single can be used 300 to 400 times on average, and it will be replaced after a short period of time, which is very troublesome.
Note: It is calculated based on the average flushing of the toilet 6-8 times a day.
The gel will dissolve evenly and can decontaminate and deodorize well
The wall of the toilet will not be stained with lumpy residue, and it will save the second cleaning.
After using for a long time, the color of the liquid will fade.
This bottle-shaped design is also better-water saving
Every time you flush the toilet, you can save about 250ml of water. Although the amount is not large, the accumulation is still a large number.
Note: Put a magic bottle in the water tank, a common way to save water. It occupies a constant water level and requires less water.
Instruction to use
Tear off the seal before use
Remove the top transparent inner plug completely, and put it into the toilet tank (away from the drain and water inlet).
After the water in the water tank enters the bottle, it will naturally sink to the bottom of the water tank.
After a few minutes, the blue bubble liquid is released from the tiny holes in the bottle, and the inside of the toilet is automatically cleaned when flushing.
When the water is colorless, take out the old magic bottle and replace with a new one.
Product packaging
New or Old packaging will be shipped out randomly
Reminder: In the upgrading of the magic bottle packaging, the two plastic caps on the top are replaced with one-piece silicone plugs, so that customers have a better experience. The new and the old are shipped randomly.
Product Specification
Product size:
6cm * 12cm
---
Product weight:
250g
---
Material:
Plant organic acids, surfactants, active oxygen enzymes
---
Suitable for:
Toilet cleaning use
---
Brand name:
Inwejia
---
Features:
Toilet descaling, sterilization, water saving, convenient to use, one bottle can be used about 1588 times
---