Guess what it is?
Insulation cup? Juice cup? Energy drink? flashlight? Hand-held fan? air purifier?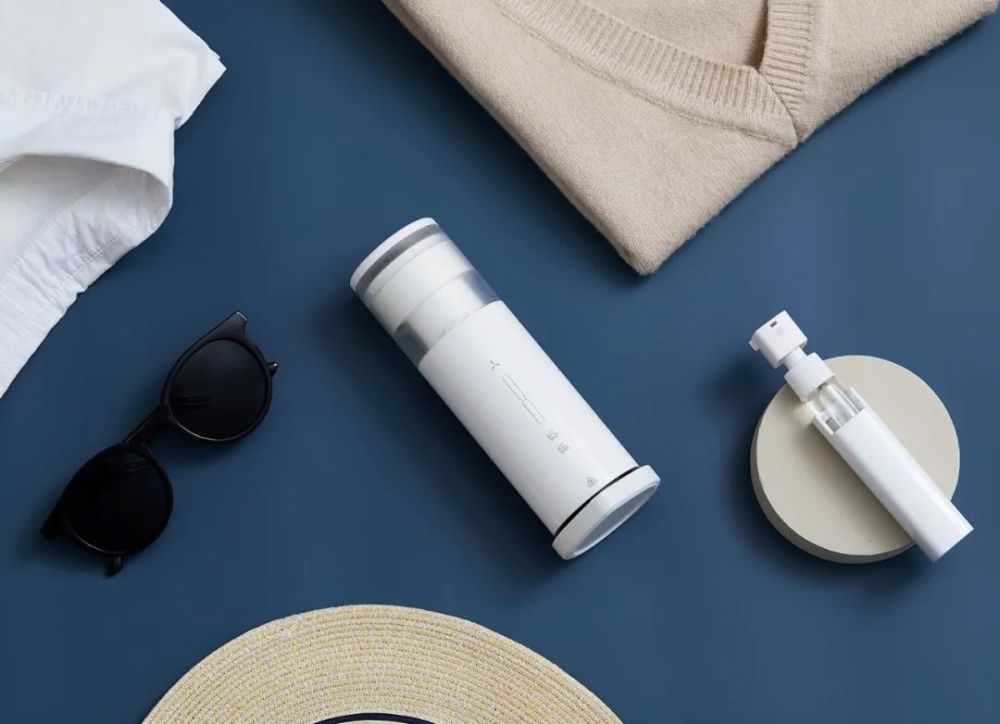 This is actually a cloth caring stick from "tomoni".
So what does this little stick do?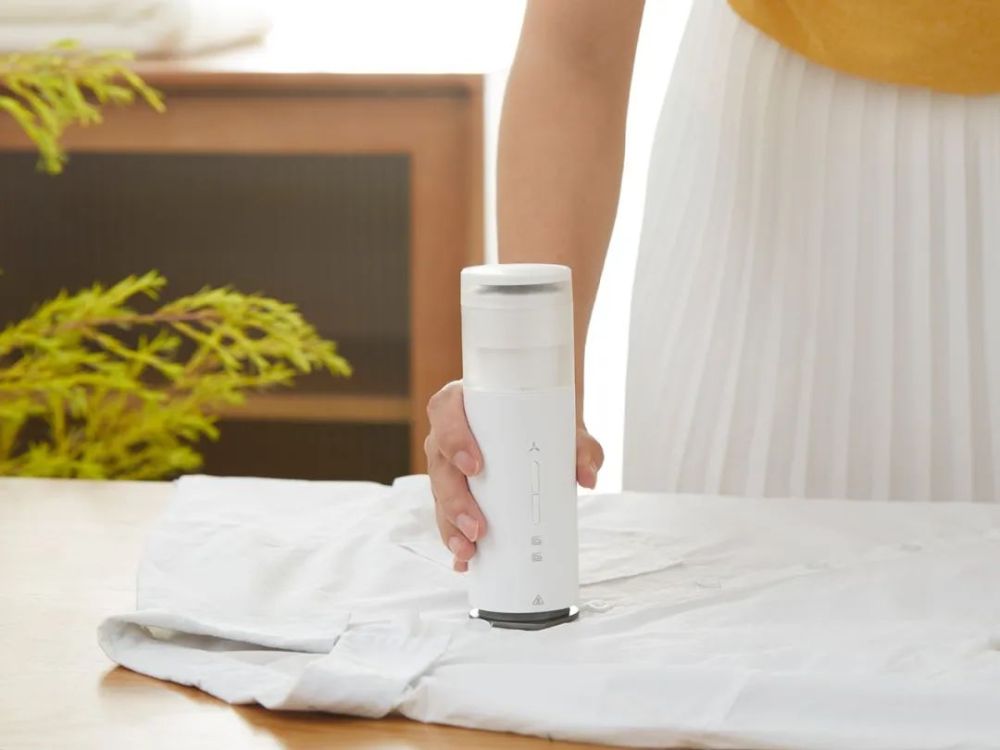 It is a small iron.
Go out in a hurry for something, open it, and iron the clothes, the effect is particularly obvious.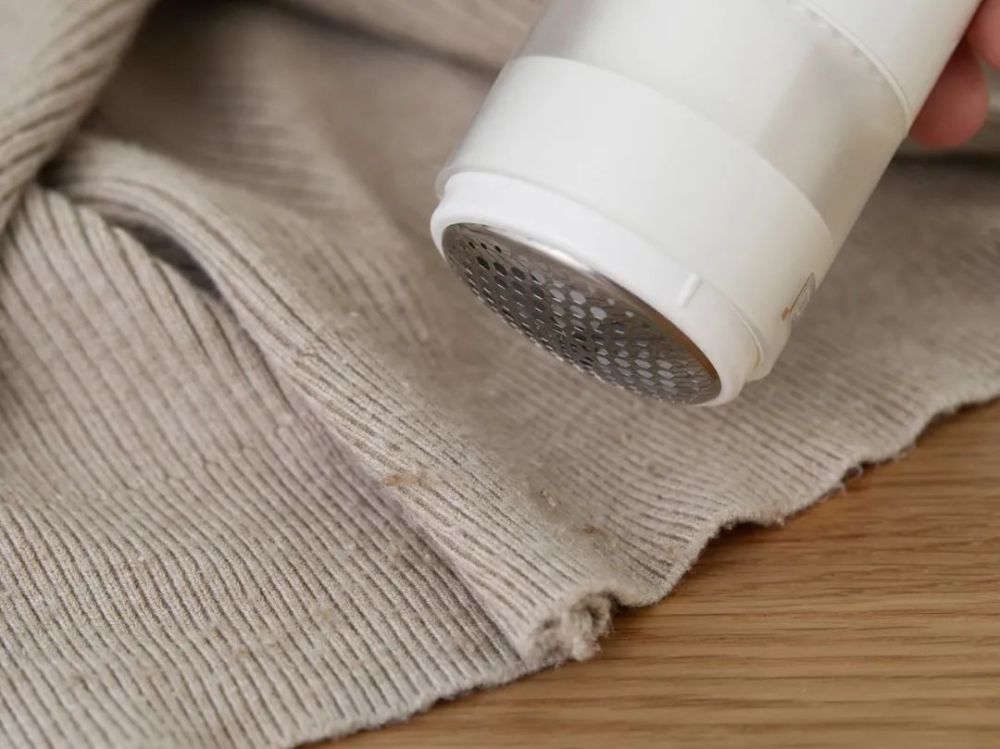 That's it? It's not over yet!
Turning the stick 180° can actually trim the hair ball on the clothes.
so that the clothes are as neat and clean as new.
So it is not only an iron, but also a hair ball trimmer.
There are many portable irons on the market, and there are many hair ball trimmers, but this is the first time I have seen a product that can iron clothes and remove hair balls without changing accessories.
One stick, no need to change any accessories, easily solve the two troubles of clothes.
Even better, I don't know if you noticed it. This is a completely wireless clothing care stick.
Built-in up to 8000mAh lithium battery, even the most power-hungry iron function, the longest battery life is close to 30 minutes, no need to plug in to use.
To be honest, this is the first time I have seen such a battery. Most of the similar products tried before are only 5000mAh, and the battery will run out in about 10 minutes.
In addition, it has a hidden function: it can be used as a power bank for mobile phones.
It is the last ration for mobile phone batteries when it is difficult to charge on the road.
The size is like a 330mL bottle of Coke. There is no obstacle in putting it in the bag or suitcase.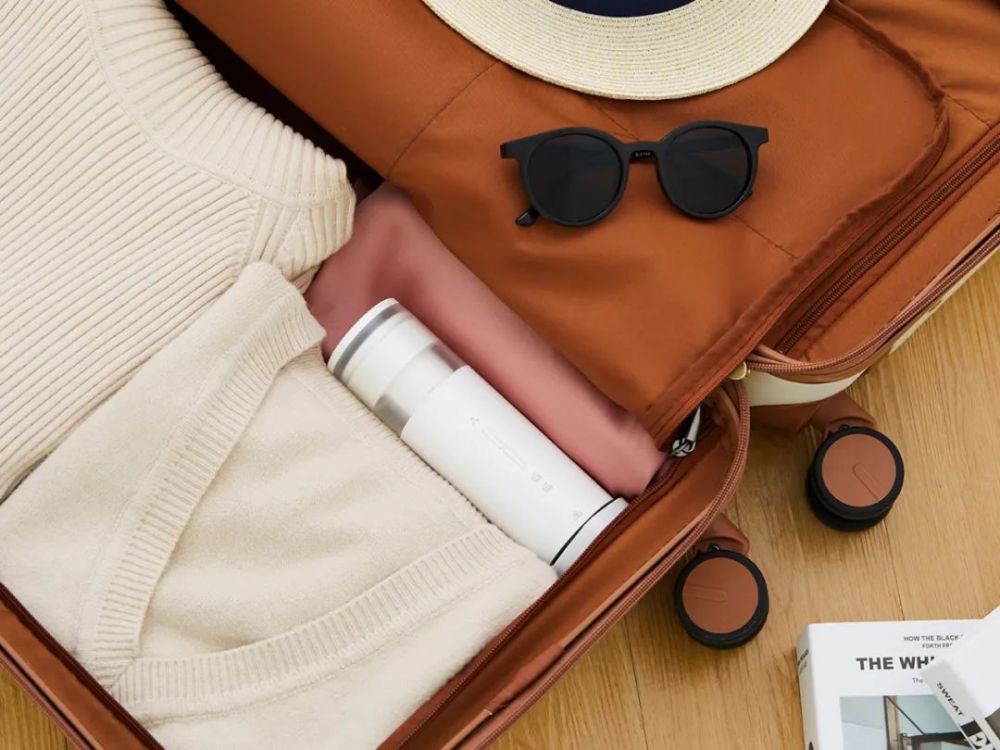 A clothing care stick = mini iron + hair ball trimmer + emergency power bank, which can not only solve the embarrassment of indecent clothes after going out, but also solve the embarrassment of dead mobile phones.
Two levels of temperature, rapid heating, can be used for dry and wet ironing
Everyone has experienced that before going out, he pulled out a piece of clothing he likes from the pile of clothes, and it turned out to be wrinkled like Pug's face and couldn't be worn at all.
A decent person can't live without an iron. Clothing like a character and crumpled clothes can only show that your life is also distorted.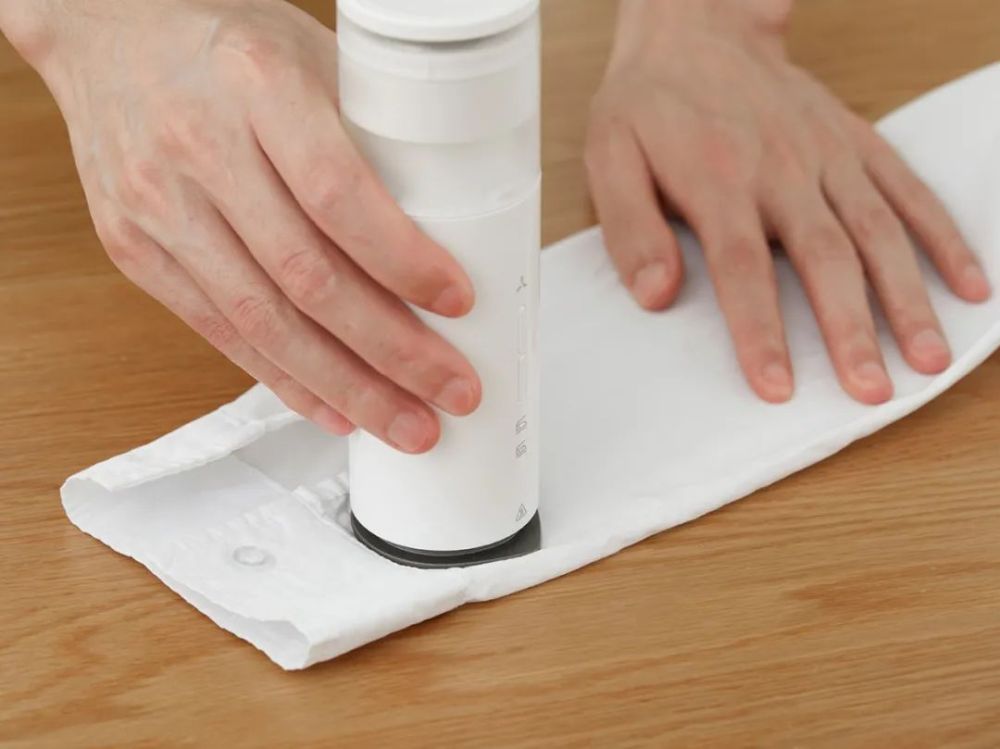 Since it's called a portable iron, it doesn't need to be too big, just holding it in one hand is enough.
The small ironing panel at the bottom has two ironing temperatures.
Level 1: 120℃, you can iron some thin clothes.
Such as shirts, T-shirts, thin pants, thin skirts, etc., or clothes made of thin fabric, polyester, chemical fiber and other fabrics;
Level 2: 170℃, you can iron some thick clothes for autumn and winter.
Such as coats, sweaters, etc., or clothes made of thick woolen cloth, cotton fabric, polyester cotton and other fabrics.
If you want to iron expensive fabrics such as silk, you can put an insulation cloth on the fabric and iron it through the cloth.
You can also put the insulation cloth underneath to prevent the iron from damaging the desktop.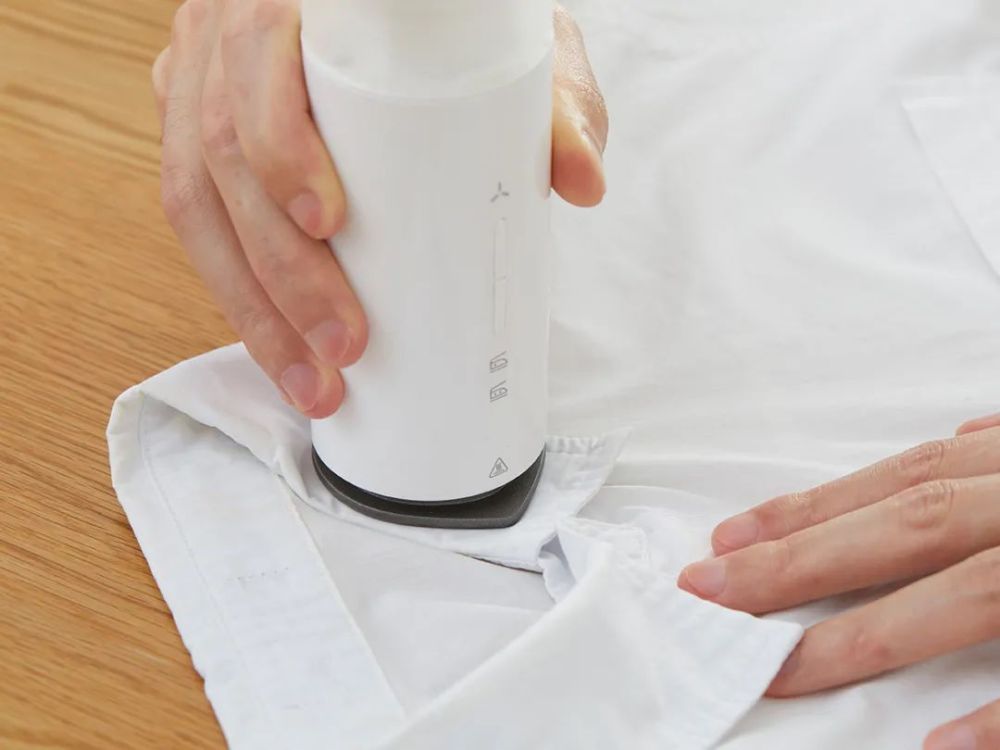 The preheating time is very fast, the preheating is completed in about 50 seconds.
Although the panel is small, it also has small advantages.
The triangular tip design of the panel makes it easier to iron the corners.
For example, when ironing a shirt with buttons, the small pointed head can move between the upper and lower buttons with ease, just as easily as practicing roller skating over obstacles.
The neckline is generally not easy to iron. A too big iron will cover the neckline completely.
It's easy to use a small one, and iron it at any time to adjust the shape of the neckline.
Ironing shirt cuffs can be ironed close to the car line, making it more tidy.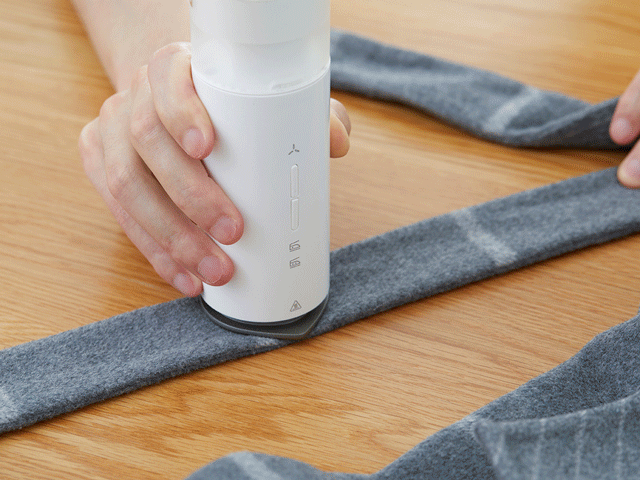 There are also small places such as hat rings and coat belts, which are also very convenient for ironing.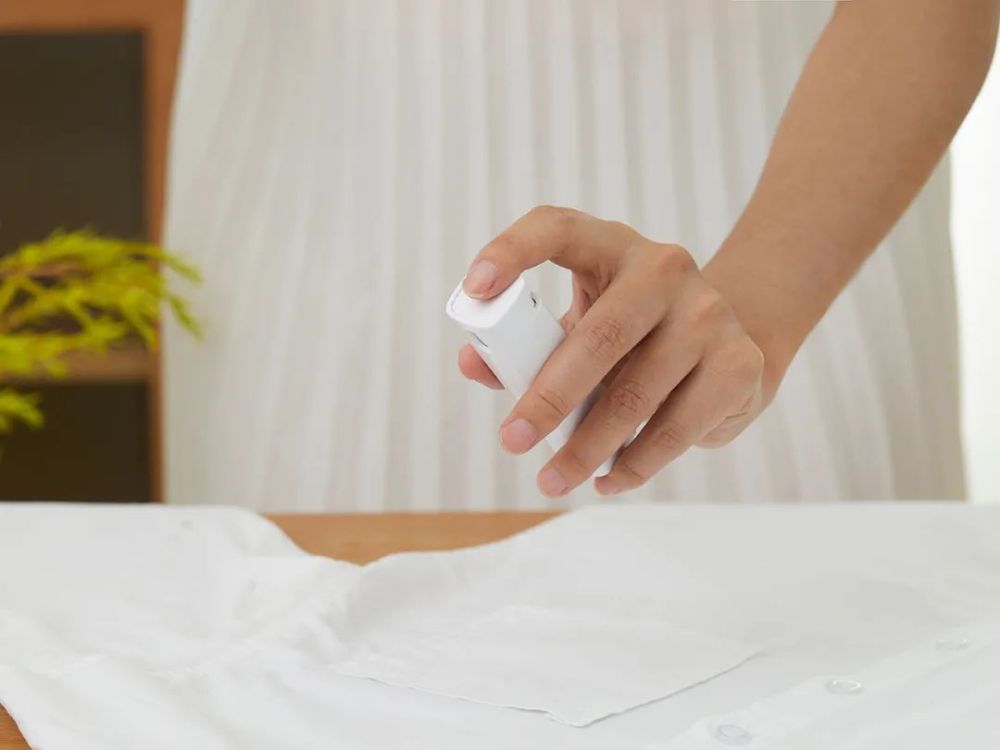 In addition to dry ironing, the small iron can also be wet ironed.
Bring a small watering can, after spraying the clothes wet, you can press the iron on it for a meal, and the folds are ironed at a speed visible to the naked eye.
The ceramic panel fits well for ironing clothes, and it is smooth to push without jamming.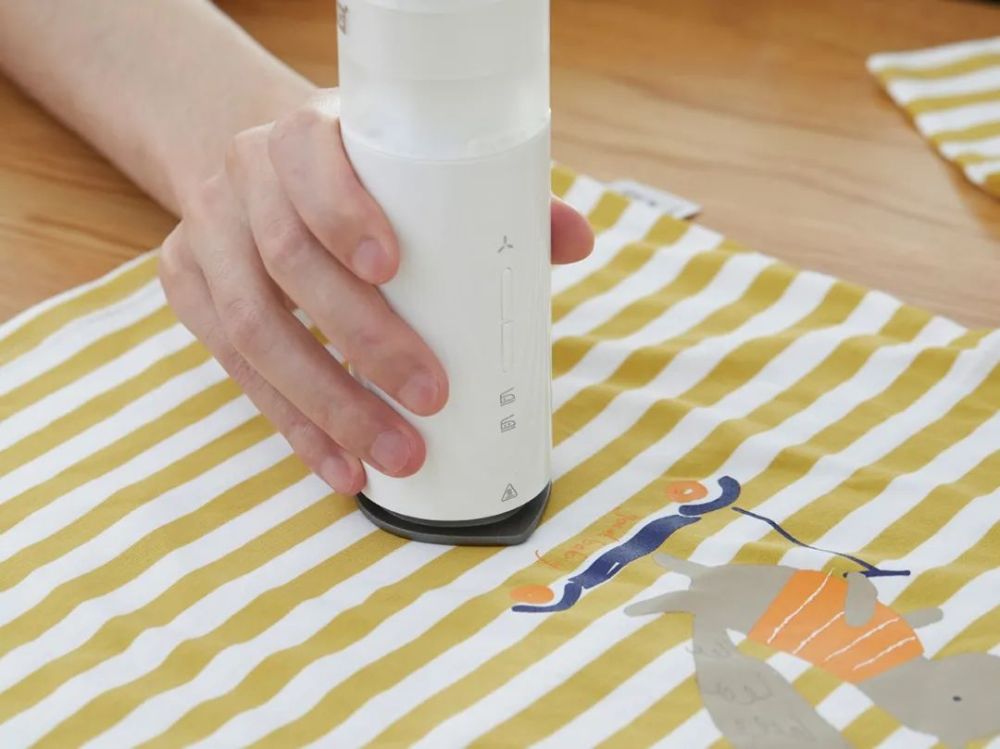 The power is only 130W, and there is no need to plug in.
The other end of this clothing care stick is the hair ball trimmer. Remove the cover and you can see the knife net and blade.
Seeing which sweater has a long hair ball, it is provoking you, so you can rub it back and forth, and easily cut the overweight hair ball from the sweater.
Pulling out this section, you will see that it also has a "compartment". The hair balls that were cut off have not disappeared, but have all been hidden here.
With the small brush that comes with the package, you can easily brush off the dander.
The sharp blade is hidden under the knife net cover, and it can reach a speed of 6500 rpm after power on.
In the eyes of Blade, trimming this hair ball is like a high school student doing a primary school homework, and it will be solved in the blink of an eye.
Even if it turns so fast, it is actually very safe.
If the knife net cover is not properly closed, the trimmer cannot be started at all to prevent accidents.
The method of use is very simple.
【Iron】
1. Long press the power button on the back to turn on;
2. Press 1 time to set the first ironing temperature; press 2 times to set the second ironing temperature;
3. Press 3 times in total to turn off the ironing function.
When fully charged, it can support ironing for up to 30 minutes.
【Lint Remover】
1. Long press the power button on the back to turn on;
2. Press the switch on the top of the front to start the hair ball trimmer;
3. Press again to turn off the hair cutting ball function.
Fully charged state, supports 25 hours of hair ball trimming.
Don't forget, besides that, it is also a power bank.
Open the silicone plug on the back, you can see the two ports here, the USB port is for charging the phone.
Fully charged with 8000mAh, enough for mobile phone charging.
If it is out of power, use the built-in charging cable to plug into the Type-C port of the machine, and it will be fully charged in about 5 hours.
If you turn off the hair ball trimmer or iron function, it will automatically power off after 20 seconds, saving you a little electricity.
The texture of this clothing care stick is particularly good. The plastic shell is smooth and feels good. It is not cheap because it is small.
It comes with a flannel cover, which can be put in when not in use, to prevent dust and bumps.
People need maintenance, even eating and sleeping, it is also a way to maintain body functions.
The clothes you wear every day are also needed.
I hope you can take good care of your clothes with this compact cloth caring stick.
Product Specification
Product size:
62mm×68mm×175mm
---
Weight:
403g
---
Battery capacity:
8000mAh
---
Interface:
Type-C
---
Charging time:
5 hours
---
Usage time:
Ironing mode 30 minutes
Trim the hair ball for 25 hours
---
What's inside the box:
Main device×1 Storage bag×1 Insulation cloth×1 Small brush×1 Charging cable×1 Spray bottle×1
---