Regarding eating, I has a wish:
I want to eat healthy and nutritious.
However, I don't want to cook.
No, to be precise, it is: I don't want to go into the kitchen in hot weather and feel the 360° of oily smoke surrounded; I'm fed up with the oily smoke odor between my hair.
But this is really unrealistic, so I can only order through food delivery app.
But ordering food delivery is really not easy…
I can't choose what I want to eat. I'm not dare to order from those small shops without a photo of their food, and those who cook too fast are worried that it's made from a cooking bag, it's not clean, and I'm tired…
Until a product selection meeting, a colleague of purchaser brought me this item, which was a new cooking box from the brand "A4Box".
It's the size of a bento box, it can be cooked, steamed, stewed, and it can be transformed into a self-heating lunch box to bring you rice, which is really amazing.
Give you three meals a day, so you no longer have the burden of cooking: no need to suffering in oily kitchen, no need to worry about dirty pots and pans, eat nutritious and healthy!
Open it, ho~ The accessories are really complete.
Compartment, stewing pot and steamer are all available. Isn't this a mini rice cooker + multi-function pot~
It turns out that the lower part of it is equivalent to a small cooking pot, which can cook rice, porridge, and make a small hot pot.
It is worth boasting that the porridge cooking procedure of the lunch box is debugged strictly in accordance with the procedures of the professional rice cooker, and the top cover has also been treated to prevent overflow of the rice cooker. The user experience is really not lost to the rice cooker.
You can also stack the steamer, steaming vegetables and so on.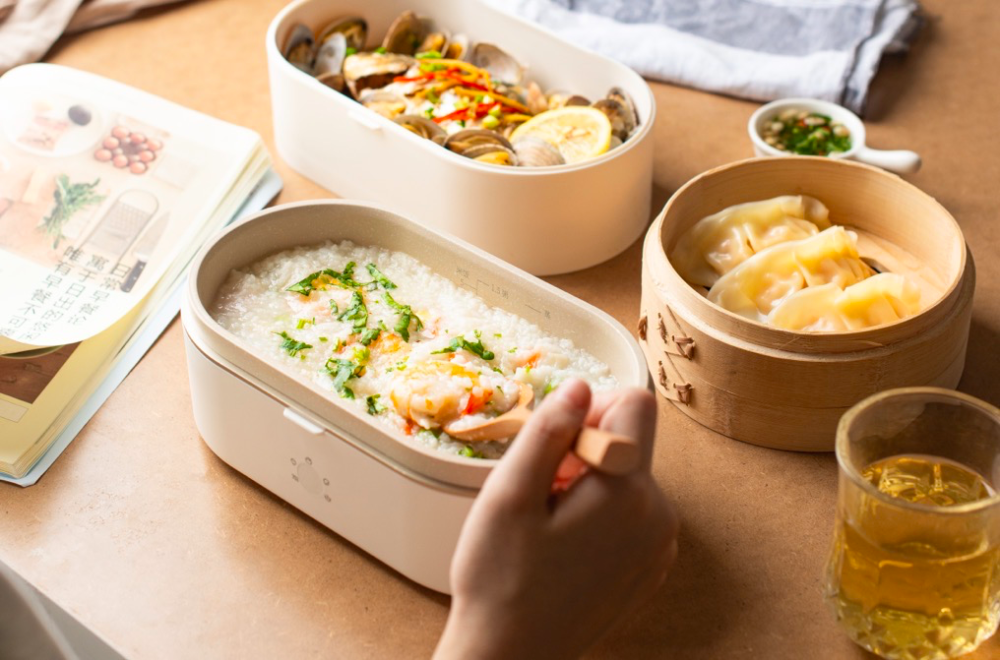 While the lower layer is cooking rice, the upper layer is also steaming.
You can cook a porridge like this, steam some seafood at the same time, and make a batch of delicious "all-in-one pot", which is convenient and time-saving.
The heating is very even, and the cooked food is delicious!
The cooked rice has distinct grains, and a superb taste;
The porridge is also very delicious. If you don't want to eat too heavy flavor for dinner. It's a great choice to cook a light and nutritious seafood porridge!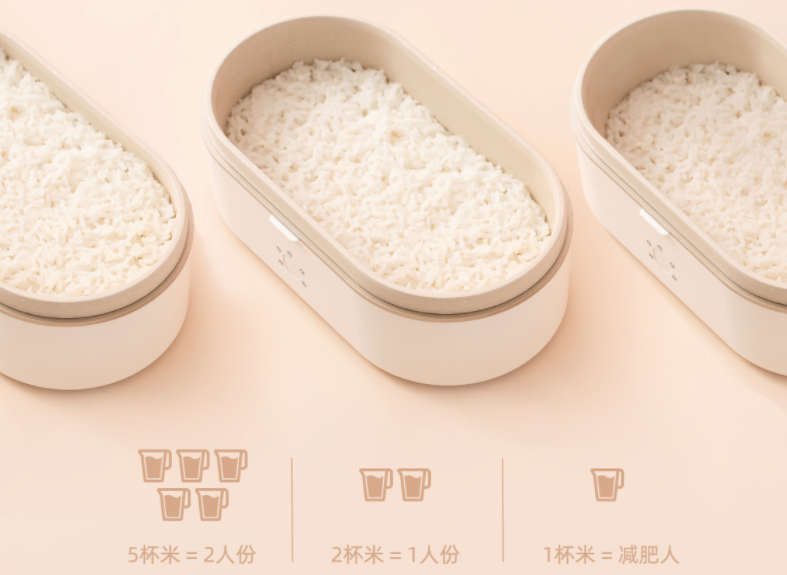 No minimum amount of rice can be cooked!
Even with a small rice cooker on the market, sometimes it is inevitable to accidentally cook too much rice and not finish eating.
And this mini-cooking box can cook as little rice as possible, ensuring that every meal is eaten and cooked right now, so don't worry about it. For friends who live alone and those who are on diet period, it is especially friendly for them.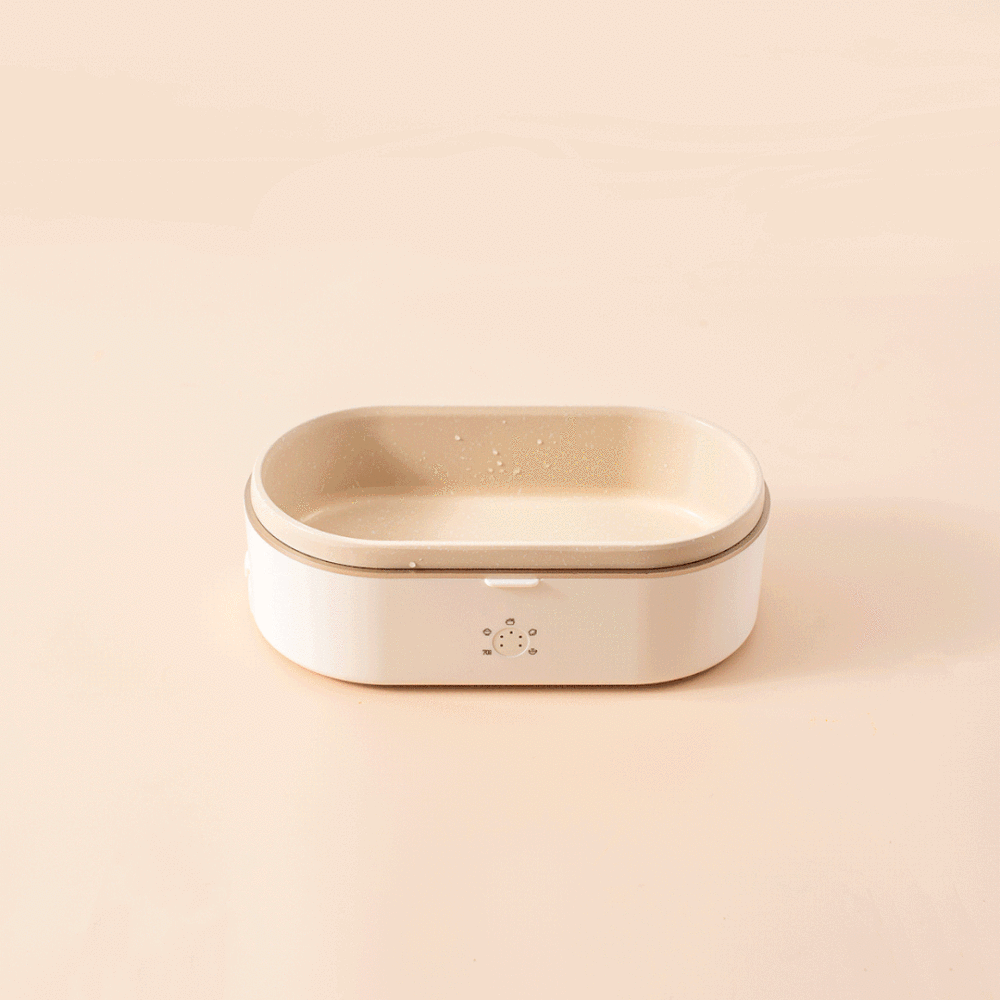 Not only can it be boiled and steamed, but it also comes with two stew cups, which can steam eggs and stew in water.
These two stew cups can handle two flavors at the same time. For example, you can stew the soup while steaming an egg custard, which is quick and convenient.
It can be eaten directly after cooking! There is no need for you to find extra tableware to serve, and you can wash a few bowls less!
The capacity of the stew cup is just right, and small portions are unburdened to eat, and the whole meal is eaten to eliminate waste.
You don't need to tidy up the leftovers, and the refrigerator will be less burdensome, and it will become neat and refreshing.
When you are hungry in midnight, you can use it to cook a small hot pot, which is really enjoyable.
I used it once to cook Korean-style army pot. It heats up very quickly and the taste is not worse than the one sold outside!
Rainy day on weekend, you can use it to easily make a delicate and delicious meal;
When you hungry late at night, use it to make a quick midnight snack!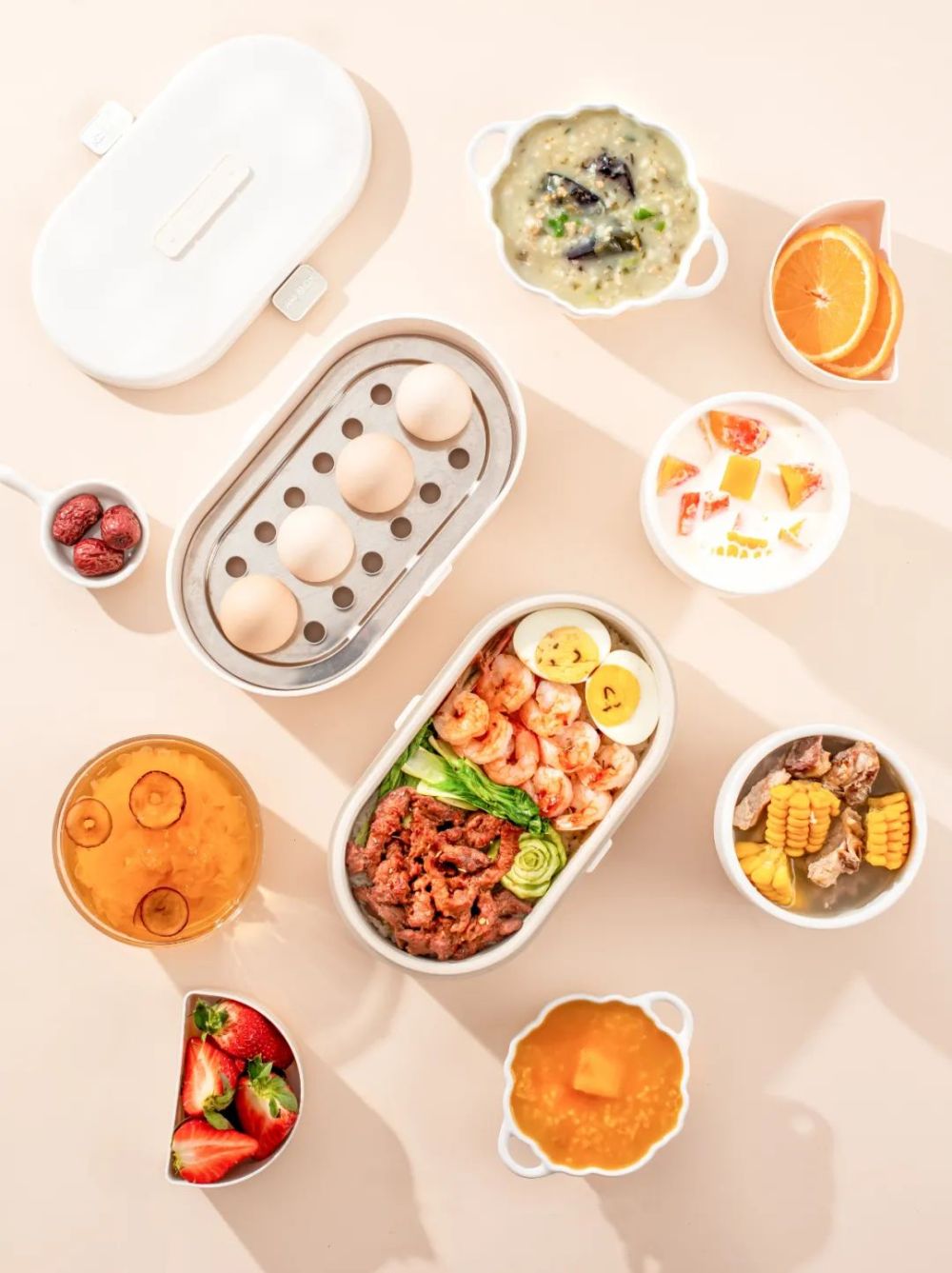 Cook a few hard-boiled eggs in the morning with some coarse grains such as sweet potatoes and corn;
Cook a porridge at noon, steam some vegetables, a proper fat-reducing meal;
Lightly in the evening, stew a red jujube and white fungus soup to eat for beauty.
Don't look at it as it looks small, it's not exclusive to one person.
It can also easily make a very hearty meal for two people.
Cooking a meal, boiling a small hot pot, and simmering a soup, a simple and ritual dinner will be there!
Don't forget, it is also a self-heating lunch box with great looks! It can be used to bring and heat meals, which is extremely convenient.
I believe everyone has a deep understanding of how popular the microwave oven is at noon every day. It is very uncomfortable to line up hungry, and it is a waste of time.
The most important thing is that the food cooked in the microwave has a dry taste, and the taste is far worse than when it was just out of the pot…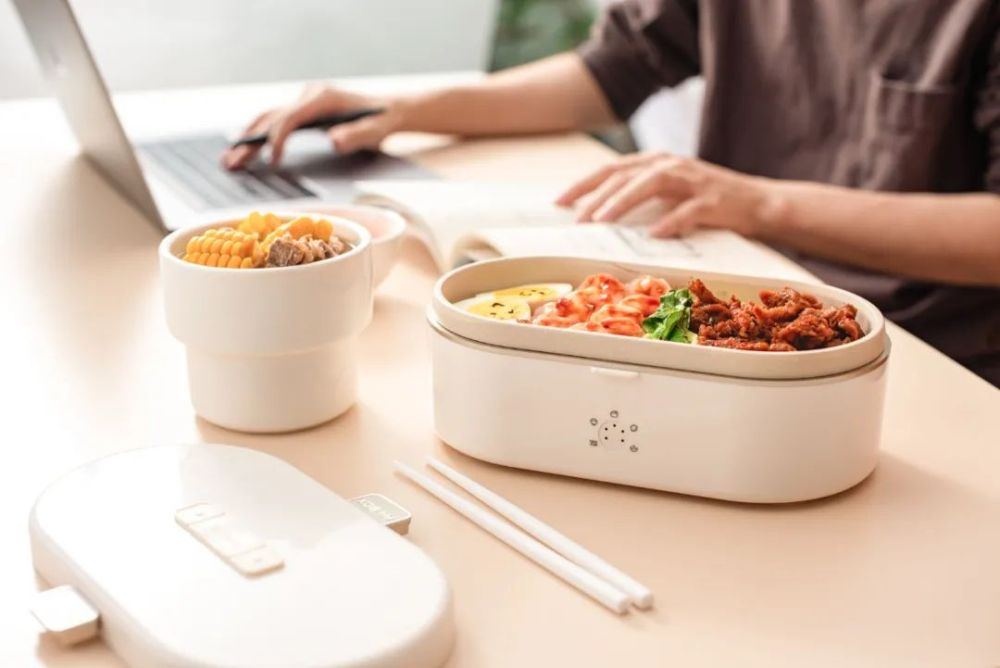 With it, you only need to power on the lunch box in advance, and it will heat slowly and evenly at 70°C.
The process of heating the meal is very quiet, and does not disturb you and the colleagues around you. When the lunc time is reached, the food is heated, and you can start eating directly.
There is no need to add water to heat, the entrance is not hot, the color and taste of the dishes are still good, just as delicious as they were just out of the pot~
With a capacity of 900mL, no more, no less, just enough to fill a meal.
Equipped with a barrier and a small grid, it is convenient to partition the meals, so that the meals can be kept in their own territory without affecting each other.
What should I do if I am hungry after lunch?
Then let it transform into a small saucepan again~
It's really convenient to cook quick noodles, dumplings, wontons and so on!
The weather is good this weekend, very suitable for lazily basking outdoors.
Because this cooking lunch box is so beautiful and the storage area is reasonably arranged, the editor has taking it out for a picnic with friends. The first layer is filled with fruits and rice balls, and the second floor is decorated with whole grains, with desserts and sparkling water.
Steam, boil, stew, and heat rice, it's so easy to cook and eat!
The operation interface is simple and clear, with 5 exclusive gear positions corresponding to different functions.
From left to right: heating at a constant temperature of 70°C, rice cooking, soup, steaming, and porridge cooking.
First power on, touch for about 2 seconds to turn on, and then touch to select the corresponding function, the corresponding function indicator will flash, and then it will automatically start to work.
It's easy to use, even on your dining table.
You see, I put rice and water on the lower layer, boiled a small amount of rice, and put it on a steamer to steam some sweet potatoes, corn, and small pumpkins. Put the lid on and wait for the delicious food to come out.
The inner liner of the cooking lunch box is made of medical stone material, which is durable, fast in heat conduction, and easy to wash without sticking.
There is also a corresponding indicator line, how much water should be added for how many meters, so that you can know.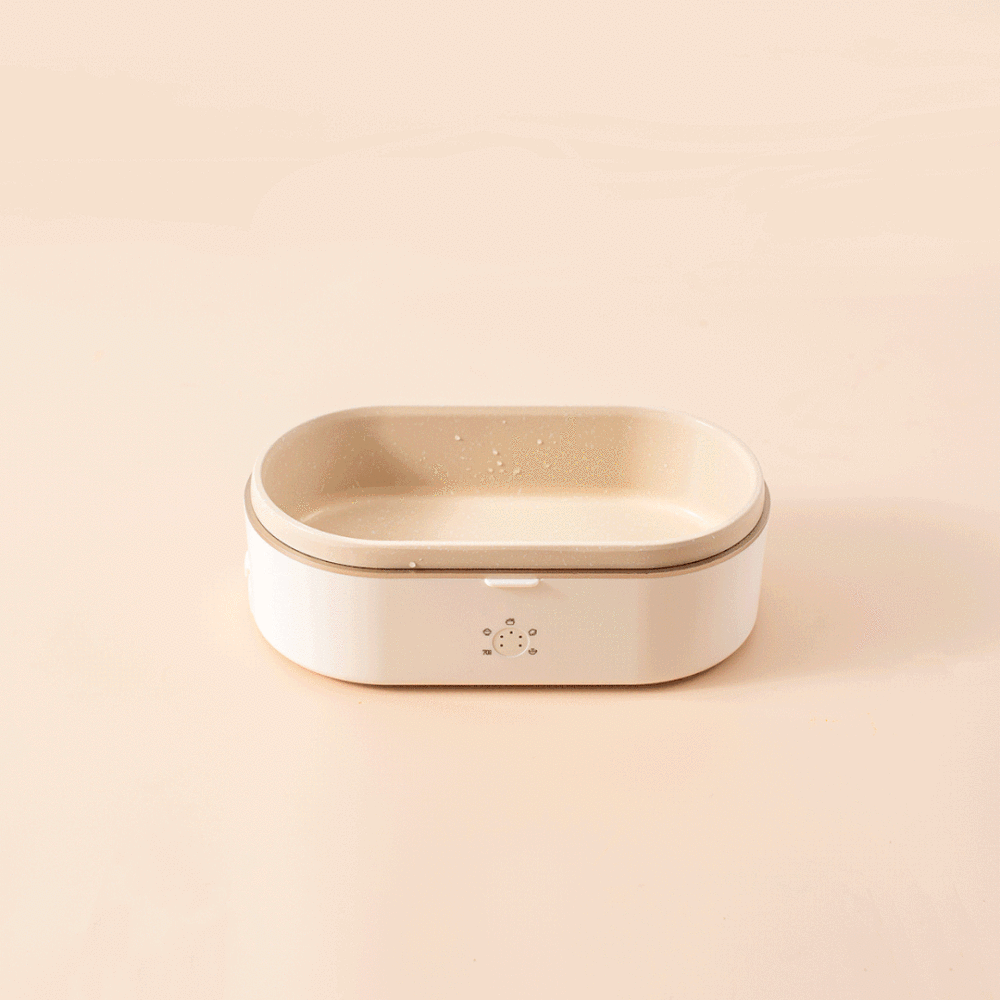 Or instead of using a steamer, you can simmer some soup on the upper layer.
Add water to the bottom layer and add the stewing components (remember to remove the stainless steel steaming grid).
Look at this bowl of ribs corn soup made by the editor, the meat is fresh and tender, the soup is delicious!
There are a total of 7 indicators on the display, which represent the current cooking progress.
When it is finished, the last indicator light will light up, and a beep will sound, and it will enter the 70°C heat preservation state.
Even if something happens temporarily, you can't start eating immediately, and you can eat hot meals when you are finished~
The capacity of a single stew cup is 480mL, and the stew cup is made of ceramic, which is very thick.
And it provide you a silicone lid. After closing the lid, the stew cup is sealed and not spilled. If you have not finished eating, it is not easy to put it in the refrigerator and store it.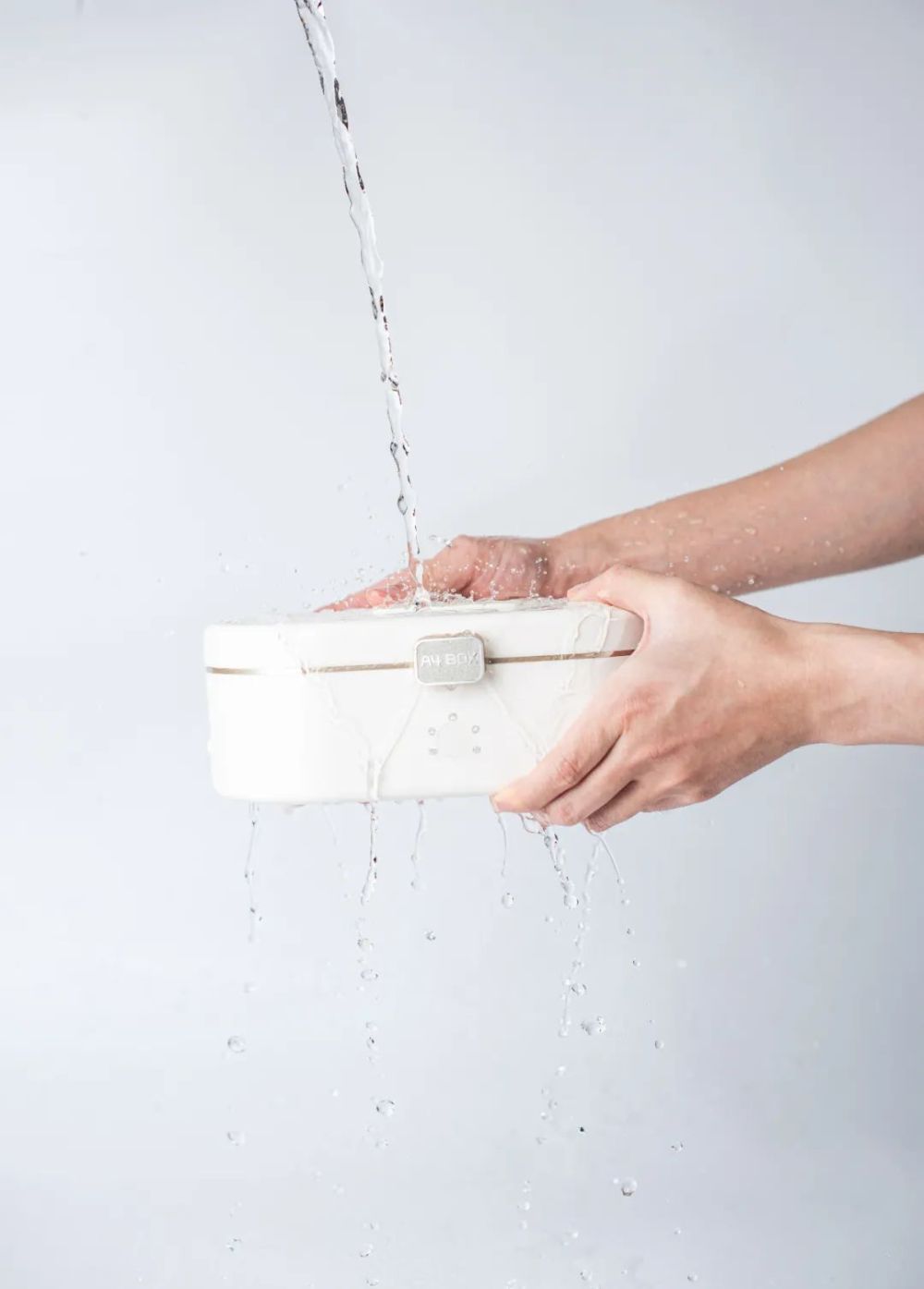 The lunch box can be washed all over. Before washing, remember to buckle the silicone plug at the power socket.
The steaming grid is made of stainless steel, which is not easy to rust and is durable.
There are also two exquisite silicone anti-scalding finger cots.
It is convenient to remove the steamer or the hot stewing pot.
Product Specification
Product size:
---
Material:
Top cover, compartment, partition – PBT
Steamer – Stainless steel
Stew pot – Ceramic
Liner – Medical stone coating
---
Product weight:
---
Volume:
900ml
---
Charging type:
In-plug
---
Brand:
A4box
---
Model:
HY-1004
---
Features:
70℃ heating, cooking rice, boiling soup, steaming, cooking porridge
---
Warranty:
1 year
---
What's inside the box:
Mini cooker lunch box×1, stew pot×2, compartment×1
---