Why you need a sealer?
If you don't finish the potato chips, just simply clip it. When you wish to eat next time? It has long been softened by damp.
The rice, fungus, and sunflower seeds that were open and unsealed, If you didn't pay attention, they will became wet and moldy.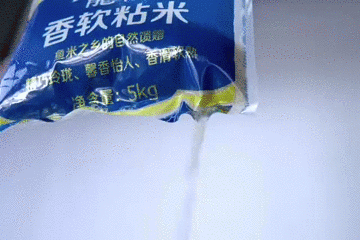 The picture is just to show the sealing effect, the actual sealing speed is slightly slower
Why do you always encounter such a thing? Because it is not sealed!
Today we will recommend a portable sealer for you.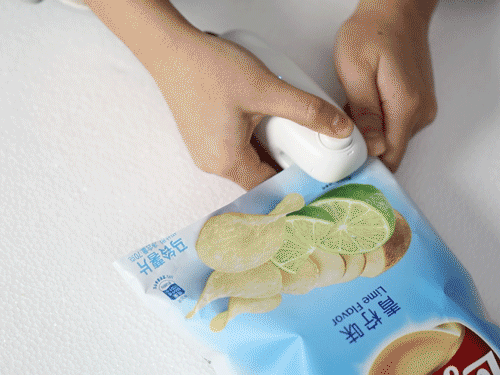 The picture is just to show the sealing effect, the actual sealing speed is slightly slower
The small one, held in your hand, does not need to be preheated, and you can seal the opened food packaging with one push and one pull.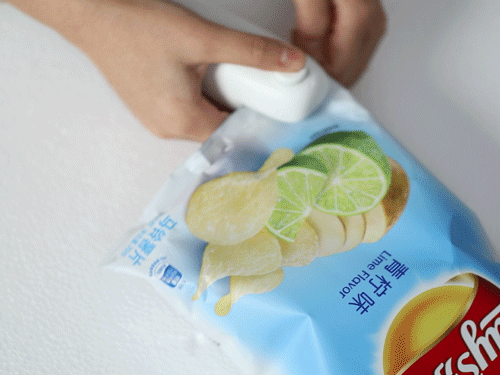 All in one
Safe and easy to use, moisture-proof, mildew-proof, fresh-keeping in one step.
In addition to being able to seal, it also has an opening cutter that can easily cut through difficult-to-tear packaging.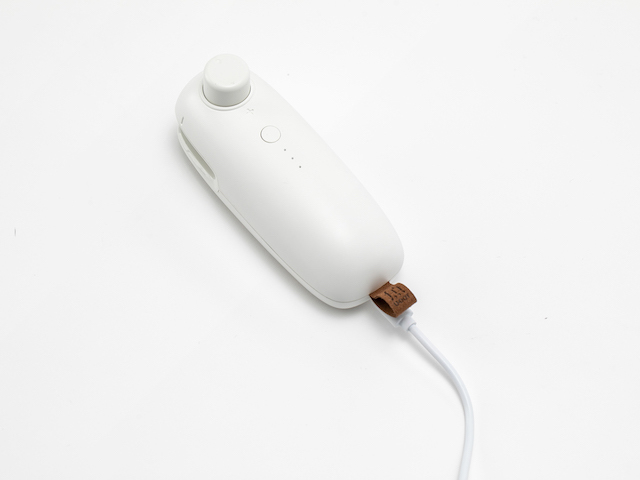 This upgraded version of the Portable Sealer can be charged.
Fully charged can be used for about half a year, super practical!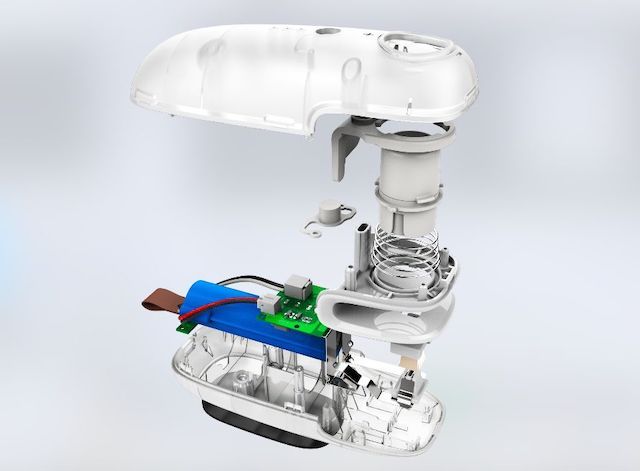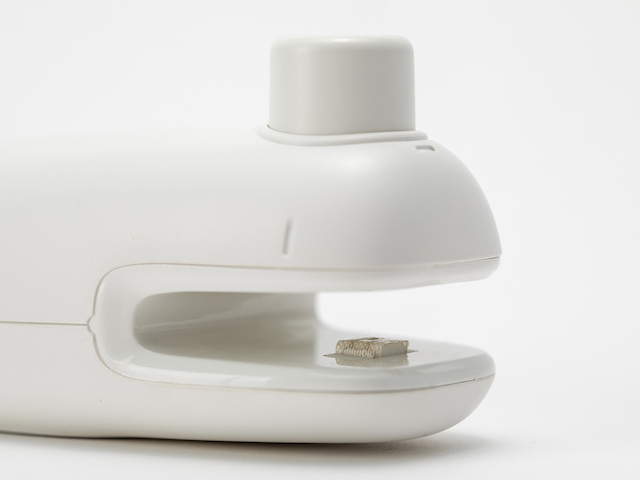 Small & Powerful
This Portable Sealer uses a patented ceramic heating module to heat two heating wires and fuse the plastic film of the packaging together to achieve a sealing effect.
Note: The device is only suitable for packaging with plastic film on both sides. It is not suitable for pure paper packaging without plastic film at all, or packaging with plastic film on only one side.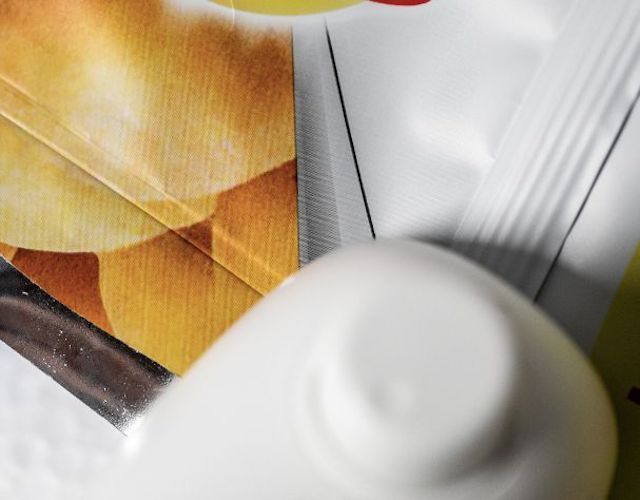 Perfect sealing effect
Two parallel heating wires allow you to seal once, which is equivalent to sealing two layers, and the sealing effect is very good.
The material of the heating wire is nickel-chromium alloy, which has strong oxidation resistance and is very durable.
Simply flipping around, and the liquid will not spill out.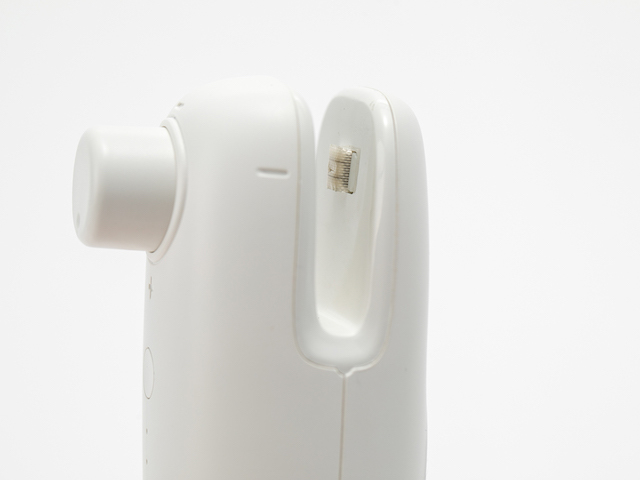 Safety & light
This ceramic heating module is hidden in the small opening of the machine and is relatively deep. It is not easy to touch with both hands, ensuring safe use.
It is mainly composed of two high-frequency ceramics and Teflon film tape.
High-frequency ceramics play a role in storing heat. It also has good thermal insulation properties.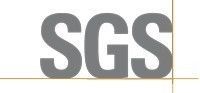 SGS test certificates
Teflon film tape is responsible for transferring heat to two heating wires. It will also make you feel smoother when sealing the packaging.
After SGS test, it can withstand high temperature of 250 ℃. There is no bad smell after heating, it is safe and durable.
Note: SGS is the world's leading inspection, verification, testing and certification agency.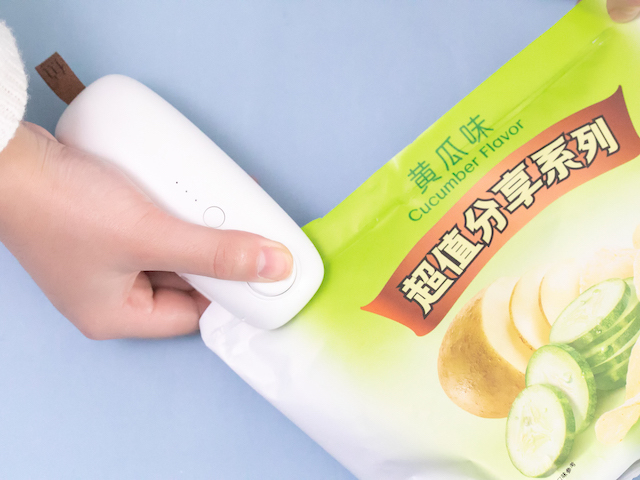 I haven't finished the potato chips. I want to eat them crispy and fragrant next time? Just use it to seal it.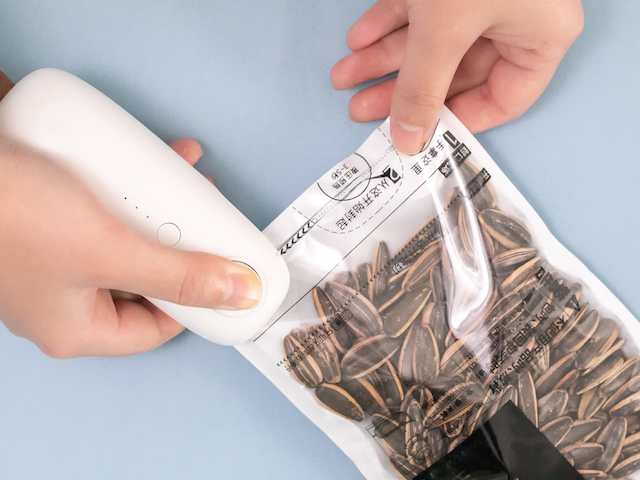 After opening the package, fungus, shiitake mushrooms, melon seeds, etc. You can be used it to prevent mold.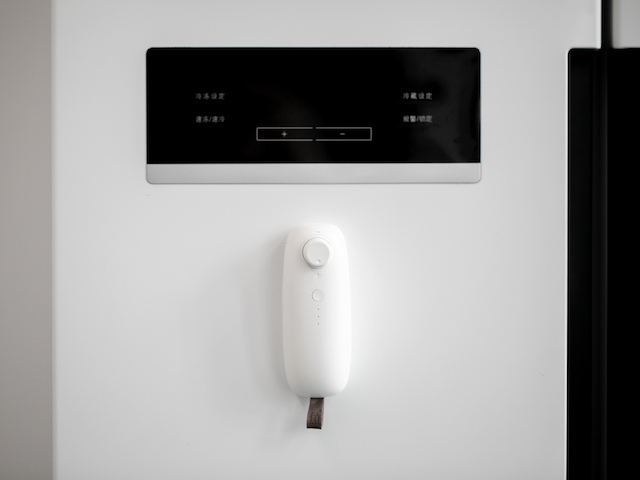 It also has a magnetic suction function, which is attached to the refrigerator and can be taken at any time.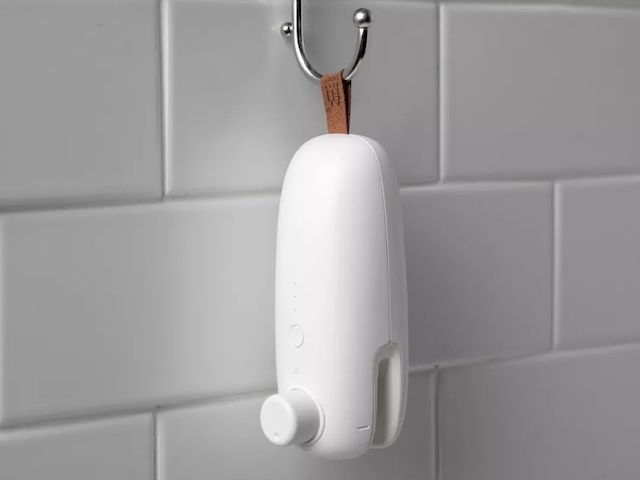 There is also a hook belt at the rear of the device, which can be hung up for easy storage.
Easy to use,get started in a few exercises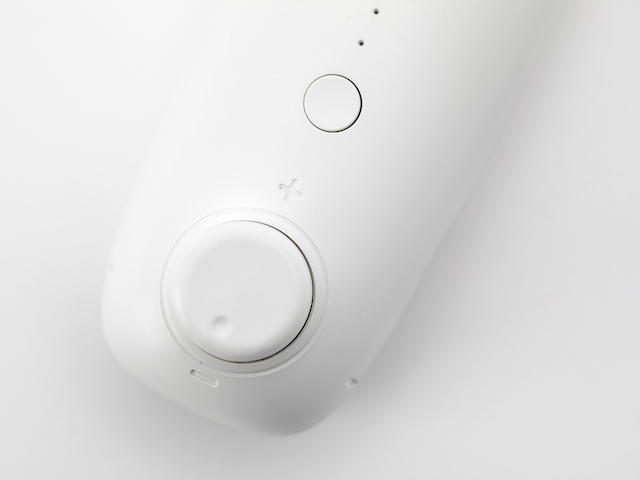 This Portable Sealer has a patented rotary button on the fuselage, and two marks "+" and "-".
"+" Represents the sealing function, and "-" represents the opening function.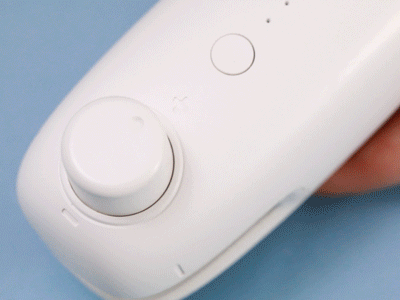 When you turn the button to the "+" or "-" position, if you can press the knob, it means that you are in place.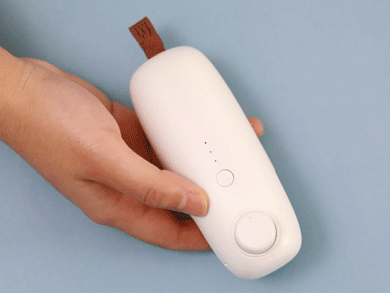 Press and hold the circular button on the body to power on.
Tap the round button to adjust the gears. There are 3 gears that can be adjusted. They are:
Ultra-thin gear: light up a light, suitable for sealing thin packaging such as fresh-keeping packaging;
Common gear: Two indicator lights on, suitable for daily packaging sealing;
Extra thick gear: Three indicator lights are on, suitable for thicker packaging such as rice packaging.
Note: This Portable Sealer is not suitable for some foil milk powder packaging and extra-thick aluminum foil packaging containing liquid; during use, do not continuously press the ultra-thin gear for more than 50 seconds, and do not continuously press the common gear and extra-thick gear for more than 30 Seconds, otherwise the protection program will be triggered.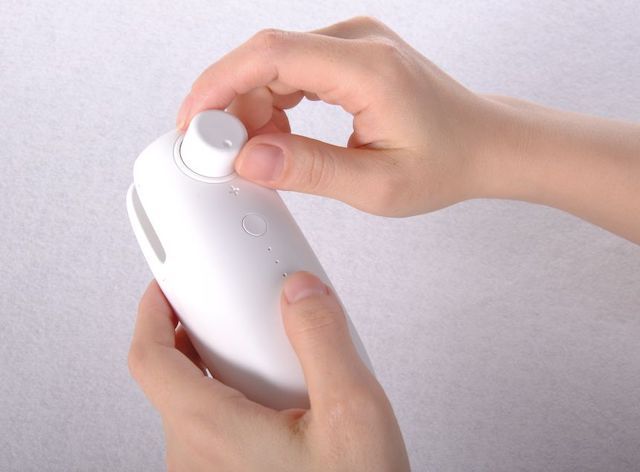 If the knob is not turned in place, you will find that it cannot be pressed, which can ensure that you are safer during use.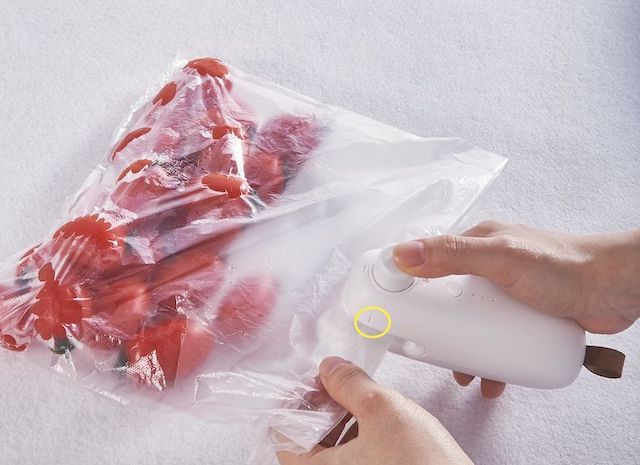 How to seal and open packaging?
When you want to seal the packaging, turn on the device first, and after selecting the gear, turn the knob to the "+" sign.
Then put the place you want to seal on the indicator mark (yellow circle) on the body, and push the sealer slowly while pressing the knob.
In the process of sealing, you must not be impatient! The sealer must be pulled slowly and uniformly to seal it firmly.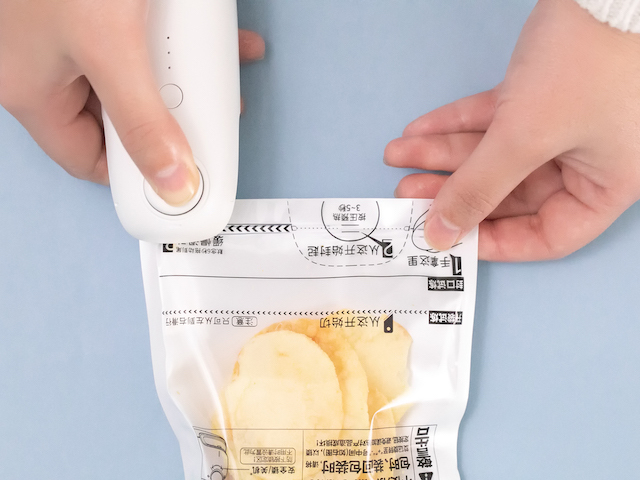 At the beginning, please practice a few more times. When practice makes perfect, it's easier to seal the packaging with it.
At the same time, keeping the opening of the packaging as flat as possible will also make it easier for you to seal well.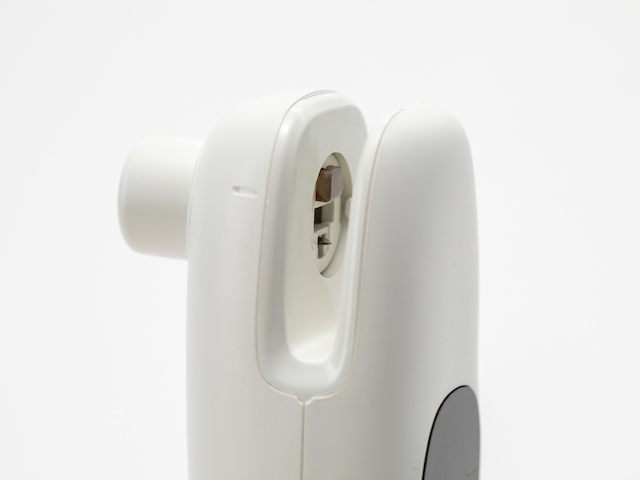 Easy to open the packaging
When you cannot open or tear the packaging , you can use its opening function.
Because the Portable Sealer also comes with an open cutter blade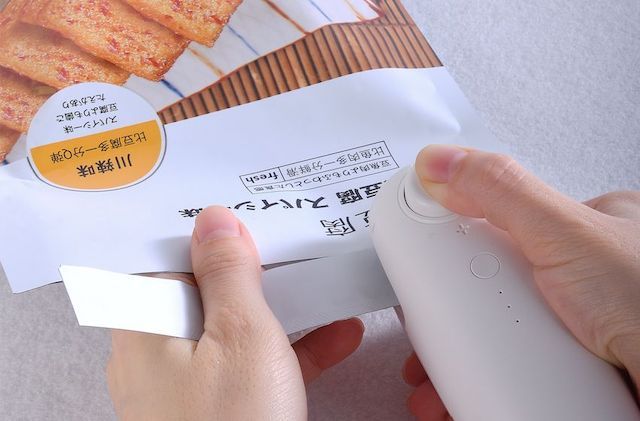 You just need to twist to the "-", press the knob, and slide from left to right, you can easily and flatly cut the packaging.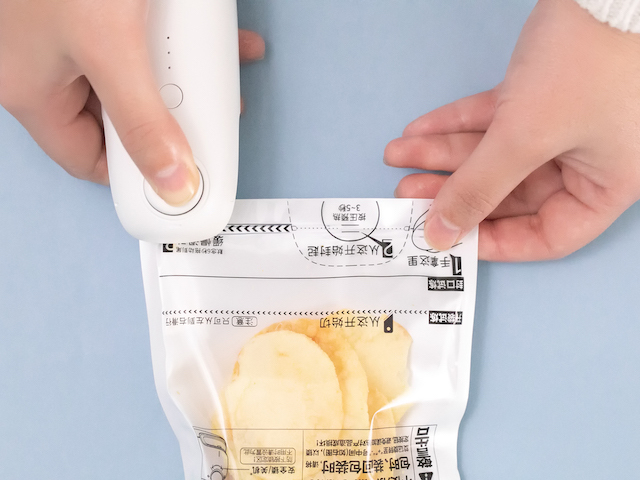 During use, you may feel the device will have a little hot.
Don't worry at all. The sealer will be intelligently protected against overheating. If it is used for a long time, three lights will flash at the same time and it can be used again after cooling for 2 minutes.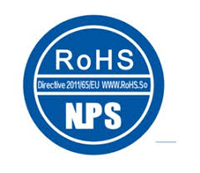 EU standard RoHS certified
The Portable Sealer itself has been tested by the EU standard RoHS and does not contain toxic materials.
Note: RoHS is a standard developed by EU legislation to detect whether electronic and electrical products contain hazardous materials.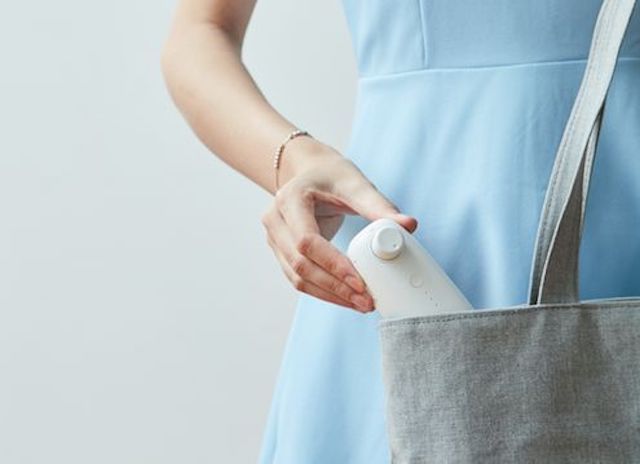 It's lightweight, so you can take it with you, whether you go to the park, picnic or on weekdays, without burden.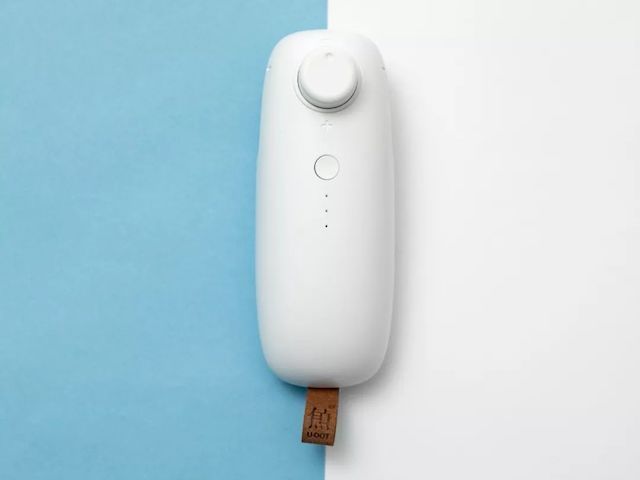 The size is 110mm × 48mm × 56mm, and the weight of the machine is about 118g.
Instructions for use:
The first gear covers packaging with a thickness of less than 0.02mm, such as fresh-keeping packaging;
the second gear covers packaging with a thickness of less than 0.08mm, such as potato chips;
the third gear covers packaging with a thickness of less than 0.13mm, such as flour packaging.
Product Specification
Product weight:
118.2g
---
Material:
ABS, Silicone, Copper, Ceramic
---
Battery capacity:
800mAh
---
Charging time:
3hours
---
Usage time:
around 160 times
---